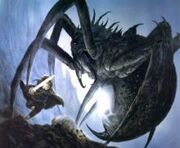 Odula (v originále Shelob) je fiktivní postava z románu Pána prstenů, vystupuje v knize Dvě věže. Má podobu obřího pavouka a žije na okraji Mordoru v průsmyku Cirith Ungol. Jediný, kdo se s ní přátelí, je Glum. Je to nejnebezpečnější stvůra Třetího věku. Přestože je z podstaty zlá, nepodléhá Sauronovu vlivu. Je potomkem Ungolianty a je velmi stará.
Ad blocker interference detected!
Wikia is a free-to-use site that makes money from advertising. We have a modified experience for viewers using ad blockers

Wikia is not accessible if you've made further modifications. Remove the custom ad blocker rule(s) and the page will load as expected.