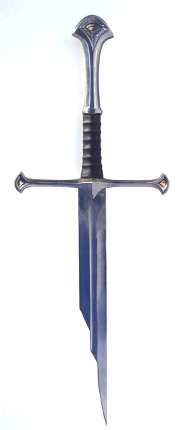 Narsil je meč z příběhu Pán Prstenů, který patřil gondorskému králi Elendilovi.

Při bitvě na Dagorladu s černou zemí Mordor, Gil-galad a král lidí Elendil bojovali se Sauronem. Sauron padl, ale s ním také Gil-galad a Elendil, který svou vahou zlomil ostří Narsilu. Úlomek zbraně vzal Elendilův syn Isildur a poraženému Sauronovi uťal prst i s Prstenem.
O mnoho let později, na konci Třetího věku, byl mocný meč opět skut elfy v Roklince a jeho majitelem se stal Aragorn. Meč nazval Andúril, Plamen západu, a vzal si jej s sebou jako jedinou zbraň na výpravu Společenstva Prstenu.
Ad blocker interference detected!
Wikia is a free-to-use site that makes money from advertising. We have a modified experience for viewers using ad blockers

Wikia is not accessible if you've made further modifications. Remove the custom ad blocker rule(s) and the page will load as expected.