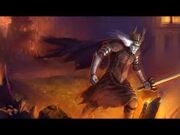 Morgomir (též Morogmir) je fiktivní postava spadající do fantasy příběhů J. R. R. Tolkiena, údajně jeden z Nazgûlů – v pořadí čtvrtý z hlavních devíti, kapitán černých Dúnadanů (Númenorejců) sloužící černokněžnému králi z Angmaru, držitel pevnosti Carn Dûm. Kdysi zřejmě býval králem lidí. Po porážce vojsk Angmaru byl Morgomir poražen Elrondem a Glorfindelem. Zmínky o postavě pocházejí zřejmě jen z počítačových her jako je The Lord of the Rings: The Battle for Middle-earth 2 Rise of the Witch King a informace o ní nejsou knižně ani filmově potvrzeny.
Ad blocker interference detected!
Wikia is a free-to-use site that makes money from advertising. We have a modified experience for viewers using ad blockers

Wikia is not accessible if you've made further modifications. Remove the custom ad blocker rule(s) and the page will load as expected.