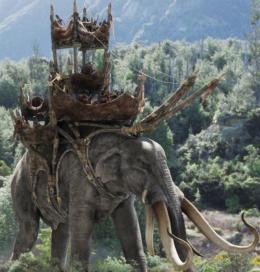 Harad (též Haradwaith) je země na jihu Středozemě. Harad byla ve Středozemi země podobného charakteru jako je v reálu Orient.
Bojovala na straně Mordoru, haradské vojsko se zúčastnilo např. Bitvy na pelennorských polích (bitva o/u Minas Tirith neboli také bitva o Středozem). Zde použili hlavně svou jízdu tzv. mûmakily, obří slony. Armády přicházely do Mordoru černými branami. Haraďané jsou dobří válečníci. Jejich 2. jízda jede na velbloudech, jsou také velmi dobrými lučištníky.
Ad blocker interference detected!
Wikia is a free-to-use site that makes money from advertising. We have a modified experience for viewers using ad blockers

Wikia is not accessible if you've made further modifications. Remove the custom ad blocker rule(s) and the page will load as expected.