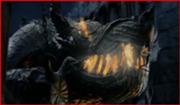 Grond je obrovské beranidlo použité Sauronem při obléhání Minas Tirith. Říká se mu "ruka ďábla", nebo také "kladivo z podsvětí". Beranidlo je táhnuto dvěma obrovskými bestiemi a jeho mohutnou váhu musí uvádět do pohybu trollové. Jeho hlava měla podobu hadovitého vlka, v jehož tlamě plál oheň. Na třetí úder rozrazí obrovskou
Ad blocker interference detected!
Wikia is a free-to-use site that makes money from advertising. We have a modified experience for viewers using ad blockers

Wikia is not accessible if you've made further modifications. Remove the custom ad blocker rule(s) and the page will load as expected.