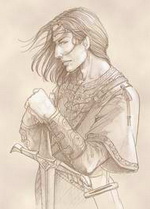 Elros (jako númenorský král Tar-Minyatur) byl prvním númenorským králem. Jeho otcem byl Eärendil a matkou Elwing. Jelikož byl Půlelf, musel se rozhodnout, jestli chce být člověkem nebo elfem. Rozhodl se být člověkem a od Valar dostal moc nad zemí Númenor a také dlouhý život. Númenorským králem se stal roku 32 D.v. Vládl celých dalších 410 let, kdy ve věku 500 let zemřel a panování předal nejstaršímu synu Vardamirovi.
Ad blocker interference detected!
Wikia is a free-to-use site that makes money from advertising. We have a modified experience for viewers using ad blockers

Wikia is not accessible if you've made further modifications. Remove the custom ad blocker rule(s) and the page will load as expected.